With concerns over having sufficient levels of silage stocks available for the winter, quality over quantity is the best advice when it comes to making silage this year.
Making one big bulky cut, may appear to get you more silage in the yard, however with delayed/late first cut silage, both quality and quantity are compromised. A delayed heavy first-cut reduces annual yield/ha and can create problems when it comes to salvaging second/third-cut crops later in the year. Alongside this, grass growth rates are typically at their highest over the next few weeks, so delaying first cut means that farmers are not taking full advantage of rapid regrowth.
A general rule of thumb is to target a 50:50 split in quantity in both first and second cut (E.g., 20 tonnes per acre to be achieved in total. Ideally, this is a 10-tonne high quality crop in both cuts. Where first-cut is let go to a 13-tonne crop, the ideal quantity of harvest for second-cut crops may only be approximately 7 tonne).
Farms that routinely take earlier first cuts have higher and better-quality annual silage yields. Not only this, but in years such as 2012/13 or 2018 when farmers faced fodder shortages across the country, having higher quality silage was far more valuable. When high-quality silage is available in the yard, options of stretching supply are endless (e.g., dilution with straw, using cheap alternative straights, restricted intakes where headspace is sufficient). However, from a nutritional point of view, the option with poor quality silage is simple, ad-lib access and more meal.
Completing a fodder budget?
A good starting point is how much silage is leftover this spring. Check the current silage stock on your farm. From there, estimate how long you typically feed for in the winter months and always allow for a 3–4-week safety reserve. Finally, complete an assessment of stock numbers that will be carried over the winter months.
Silage requirements based on animal type: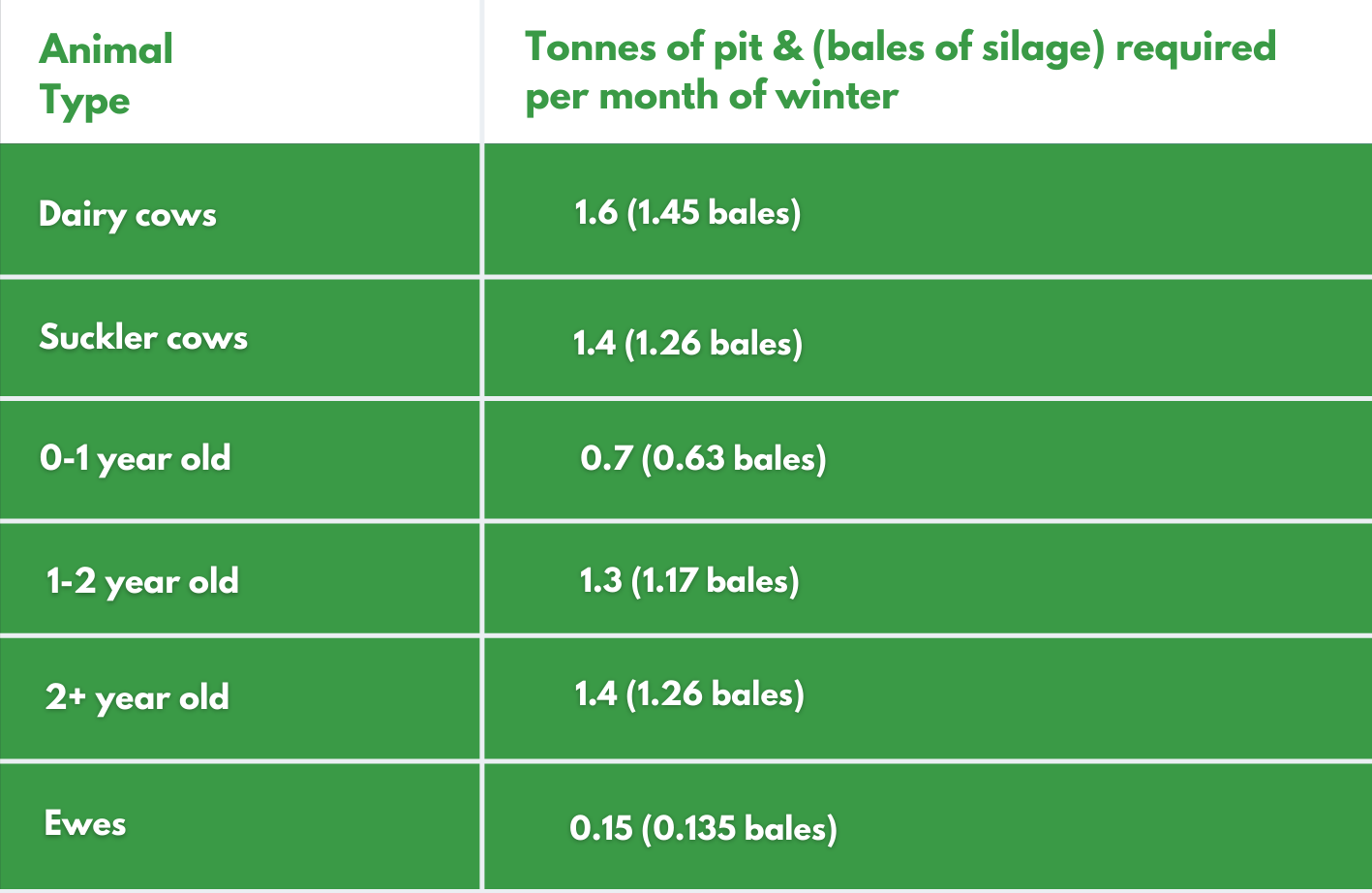 Measuring pits on farm
Length x breadth x average height in metres, divided by 1.35 = tonnes of grass silage
Or
Length x breadth x average height in feet, divided by 45 = tonnes of grass silage
Can we get more silage in the pit?
Agritech's GrasZyme Sugarboost is proven to retain a higher proportion of silage in the pit post-harvesting. Losses on average will be reduced by 6.1%, this would equate to 6.1 tonnes of extra silage in every 100 tonnes ensiled. For example 1,000 tonne silage pit, + 61 tonne more available silage. With current silage costs, this would equate to a return on investment of 2:1, before taking animal performance benefits into account from treated silage.
More Information: 
For more information on assessing current silage stocks, and on GrasZyme Sugarboost, contact your local Agritech Sales Advisor.