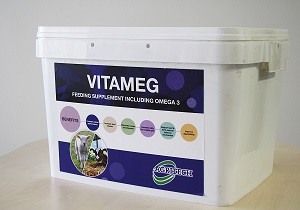 Vitameg is an advanced feeding supplement with prebiotic and omega-3 for young ruminants. Early feeding and rumen development are key to successful calf and lamb rearing. Vitameg's combination of ingredients when fed to young ruminants will:
Stimulate gut and rumen development
Added omega-3 to boost immunity
Acidifies whole milk to support calf digestion
Increase feed intakes
Increase daily live-weight gain.
Support calf and lamb natural defence mechanism.
Improve digestibility.
Download Vitameg Brochure Here 
For more information or to buy Vitameg, contact your sales advisor
Find out more about our calf range: