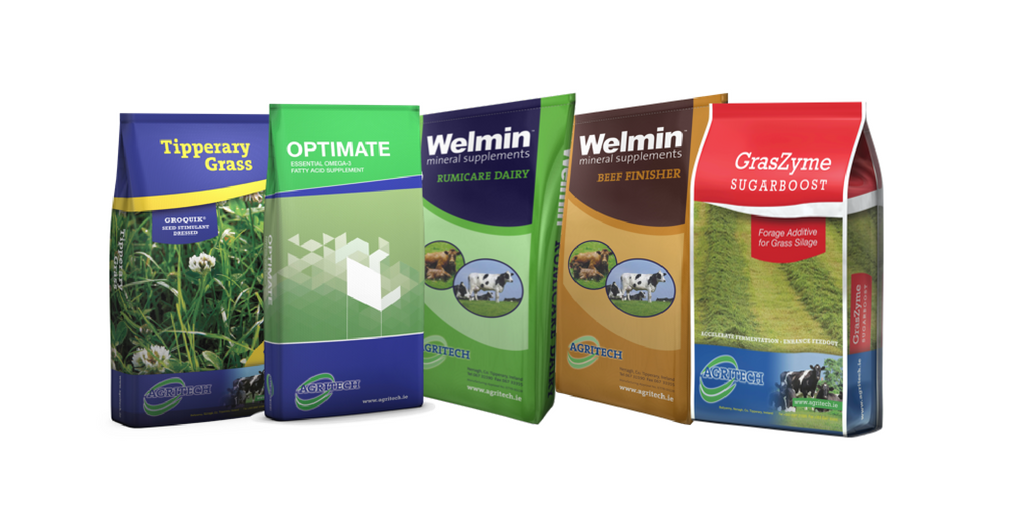 Agritech manufacture and supply a range of quality, innovative, nutrition and forage products directly to livestock farmers in Ireland.
Grass Seed
With almost 40 years' experience in the grass seed business, Agritech are one of the longest established blenders of grass seed mixtures in Ireland. Our Tipperary Grass brand is a market leader throughout Ireland with our flagship premium mixture Tipperary No 4A is used in every county in Ireland.
Tipperary Grass Seed Brochure here

Forage Additives
GrasZyme SugerBoost is a forage additive for grass silage. It enhances grass preservation, boosts animal performance as a result and aims to increase the effectiveness of the grass silage to deliver more milk and more live weight gain at feedout.
GrasZyme Sugarboost Forage Additive Brochure here
Calf Milk Replacers
The Vitalac Calf Milk Replacer range from Nukamel offers a well-balanced level of highly digestible fat and protein via carefully selected, high quality ingredients.
Vitalac Milk Replacer Brochure here
Mineral Supplements
Welmin Mineral Supplements are manufactured to the highest specifications with particular emphasis on vitamin and trace element levels. They come in powder form, molassed mineral blocks and liquid mineral supplements.
Dairy
Welmin Dairy
Rumicare Dairy
Opti-mate
Beef
Welmin Beef
Rumicare Beef
Welmin Mineral Supplement Brochure here
Feed Additives
Rumate
Rumate is a targetted release nitrogen for the rumen of dairy and beef animals.
Opti-Mate
Opti-Mate is an essential omega 3 fatty acid supplement for dairy cows for improved fertility, health, production and reproductive performance.
Agromega
Agromega is an essential omega fatty acids supplement for pigs.
Sanitise
Sanitise Bedding Conditioner is a housing and bedding conditioning solution to promote a dry hygienic environment in the bedding of all livestock.
Other Products
View many of our other products here.