Agritech provide an affordable range of high specification products for all equine disciplines. With personal interest in horses we have a vested interest in providing quality products combined with the latest research.
We manufacture Welmin Horse Mineral Supplements to give you a complete mineral and vitamin supplement in powder and molassed bucket form for all equestrian disciplines.
Welmin Multiboost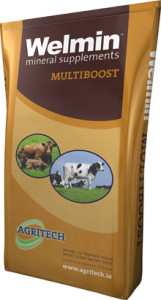 Welmin Multiboost is a supplement rich in macro and trace minerals along with a broad range of vitamins. Suitable for a wide range of animals including young stock, particularly replacement dairy heifers and calves, show animals, horses and also deer.
Welmin Multiboost is heavily fortified with a broad range of vitamins, particularly the B vitamins essential for vigour and health in the young developing animal.
Contains 8.5% oil from salmon oil and protected fats to give that extra thrive, vitality and sheen making it an ideal supplement for all show animals maintaining a healthy glow and suppleness to the skin.
Copper, selenium and zinc from multiple sources for maximum bioavailability and thrive.
Contains 4% phosphorus for improved growth and bone development.
Farmers report excellent results when fed to their replacement dairy heifers during their first winter pre breeding.
Welmin Horse Block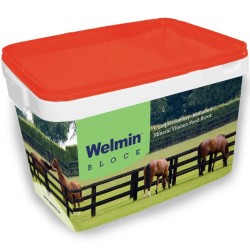 A high specification block suitable for horses and ponies of all disciplines, racehorses, mares, foals and hunters. Welmin Horse Block is suitable for leaving outside in the field or alternatively in the stable.
Contains a wide specification of minerals and vitamins to ensure health and vitality.
Added yeast to aid digestion.
Contains 6.5% pure salmon oil to supply key omega 3 oils for coat, shine and general well-being.
A full complement of B vitamins included.
Contains chelated copper and zinc.
Inclusion of garlic works as nature's natural deterrent to flies which can be a summer nuisance.
EquiMeg
Our Omega 3 product originally developed for dairy cows has proven extremely successful for horses and particularly for mares going to service. The problem with the modern equine diet is that there is too much omega 6 and not enough omega 3. If the horse is on a corn diet, it is getting way too much omega 6. Omega 6 is found in high amounts in corn oil; too much may lead to inflammatory disease because omega 6 is the precursor of really potent inflammatory hormones. Traditional supplementation with vegetable oils such as linseed, soy and flax to improve coat appearance only increases this problem. EquiMeg supplementation which is high in Omega 3 overcomes this imbalance with many other benefits. Feed it to mares pre service, for foals for improved immunity, for stallions to improve semen quality, for all horses in work as an anti-inflammatory and as a general health supplement. See your horses coat shine.
One happy EquiMeg customer told us
'YES, YES, she is in foal. I hope you can realise how thrilled I was when Roddy first scanned her. I honestly thought he was joking. It took me a long time to accept that she was in foal and that all would be well. So I can only give the Equimeg the best of praise. Roddy, my vet told me that I was the talk of the country having gotten a difficult mare in foal with this magic additive. I will be a user forever more. Many thanks for your help.'
Welmin Mineral Supplements Brochure here

To buy our Welmin Horse Mineral Supplements, contact your local distributor.